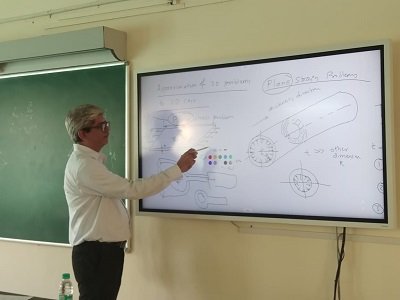 Total 12 numbers of Class rooms of the SPCE are equipped with Samsung's Digital smart Boards to enhance and make teaching and learning process easy.
These digital smart boards provides a smooth Pen to Paper like writing experience in variety of colour, style and width. Brush mode allow to create art at the stroke of a brush in water and oil painting, flexible erasing with finger or palm.
Digital boards provides teachers with smooth and familiar pen to paper writing experience. It expands creativity without sacrificing comfort. With the two different painting modes, water and oil painting, it enables enhanced realistic expressions and more details art work.
Other advantages of Smart classes with the Samsung Digital Boards are:
It improves classroom management
Minimise the need for eyes on the back of one's head
Provide academic and digital learning
Multiple choice tests
Waking up students with smart technology
Flexible image editing
Instant writing after capturing sources
Simple usability
Presentation is effortless
Comprehensive connectivity with computer support
Precise visuals with powerful operations
Large audience sharing
Various inputs and easy sharing
Extended usability